Community Learning Centers
After school and throughout the summer, COA's CLC programs partner with Milwaukee Public Schools to provide a wide range of programs that engage children ages 4-18 in positive activities designed to help build character, achieve academic success, promote health and wellness, and have a good time. Structured programs are offered in safe and nurturing environments supervised by trained staff at our six CLC locations:  Auer Avenue Elementary (at the COA Goldin Center), Doerfler Bi-lingual School, Lincoln Center for the Arts, O.W. Holmes School, Hopkins-Lloyd Community School and  Westside Academy. Opportunities for our participants include homework help, academic enrichment, leadership groups, youth enrichment, sports, wellness and recreation activities, ways to earn free Driver Ed education and so much more.
There is no cost for the program but students must be registered and parents/guardians must receive a program orientation.  Hours/days of operation vary based on school release times.
All sites, other than Auer/Goldin Center, follow the MPS school calendar and are closed on days when there is no student attendance (holidays, professional development days, parent/teacher conferences, etc.).  Contact the site most convenient to you for more details and for after-school and summer programs.  Site information is listed below.
Holmes, Auer, Hopkins-Lloyd, Doerfler and Westside Academy are YoungStar rated and accept Wisconsin Shares childcare (W2).  Parents/Guardians can ask for help with the W2 process.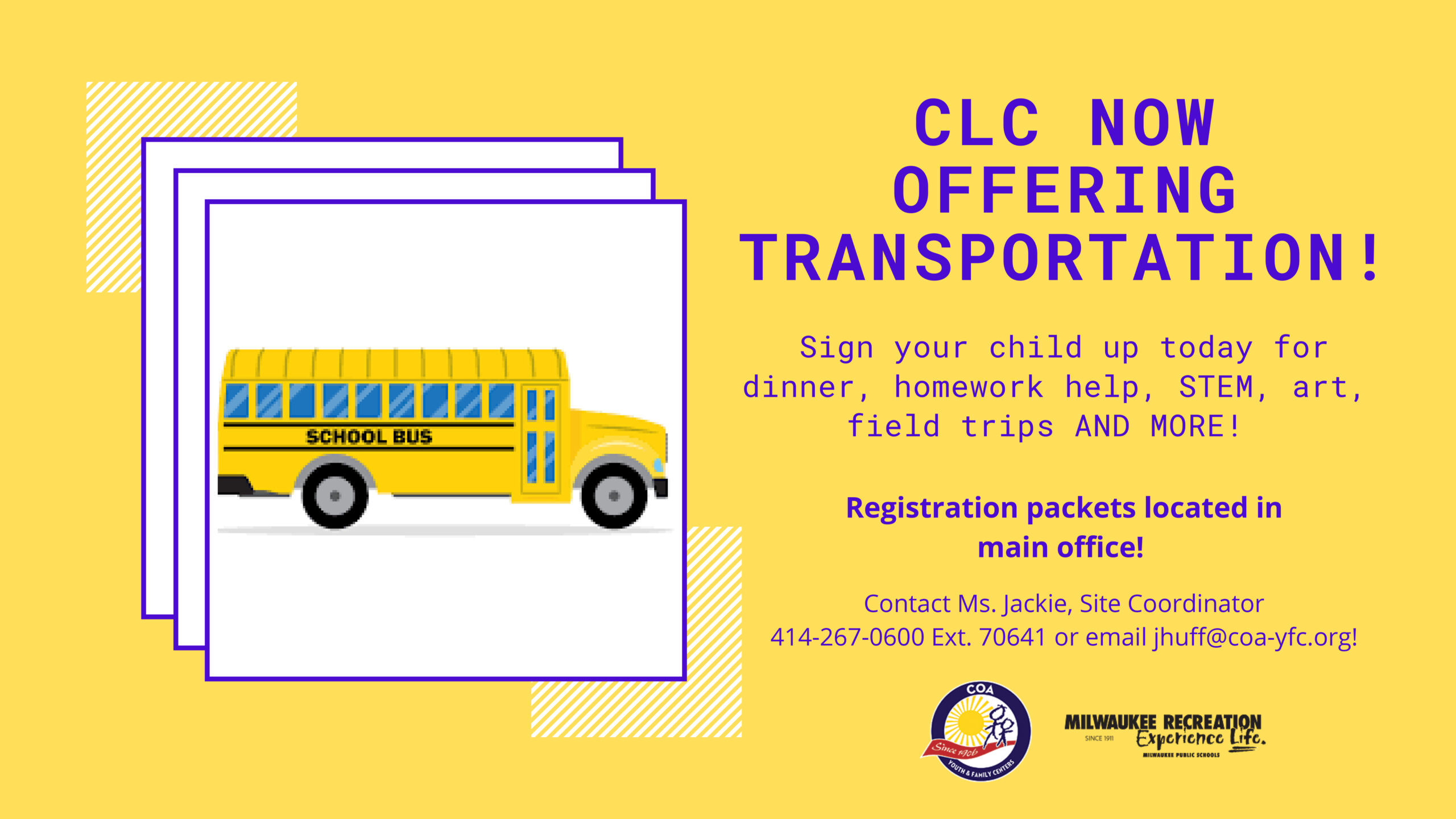 Hopkins-Lloyd School
1503 W. Hopkins St.
K4-5th Grade
9:00 am – 4:00 pm Monday – Friday
NO WEEKLY FEE
Site Coordinator:
Jackie Huff
jhuff@coa-yfc.org
414-267-0600 ext. 70641
Westside Academy
1945 N. 31st St.
K4-5th Grade
9:00 am – 4:30 pm Monday – Friday
NO WEEKLY FEE
Site Coordinator:
Rose Adong
radong@coa-yfc.org
Cell: 414-732-1712
CLC Office Phone: 414-934-5074
After School Hours Phone: 414-934-5084