Project Description
When Shorewood High School senior Katie Eder began volunteering at COA, she was just 13 years old. Motivated by her passion for writing and her love for volunteering, in 2014 she approached COA's Executive Director Tom Schneider with a bold proposition: she wanted to teach a creative writing class for youth at COA.
That summer, Katie gathered 18 kids at COA's Riverwest Center and taught two creative writing workshops. Through these workshops she got to see firsthand the positive impact creative writing can have on children's lives. One of Katie's fondest memories is the time a shy student approached her after class and confessed: "This was the first time I felt like I had a voice." Katie was moved: "I could really see the impact of what it means when you ask a kid, 'Tell me your story.'"
For Katie, getting kids to write is more than just putting pens to paper, it's about helping them discover themselves and their imaginations: "Everyone has a story. Everyone has experiences and challenges in their life that make up who they are."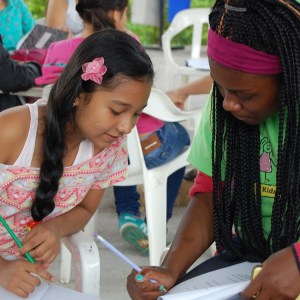 Soon after the summer of 2014, Katie gave her creative writing program a name: Kids Tales. After seeing the strong impact the program had at COA, she decided to expand Kids Tales to reach more kids around the community – and the world. Today Kids Tales is an international nonprofit that has taught nearly 1,200 kids in 12 U.S. cities and eight countries. Despite all this growth, Katie has still managed to return to COA each summer and lead Kids Tales workshops. Each week-long workshop is led by trained high school student-teachers and culminates with a book that is self-published and sold on Amazon, making each child a published author.
Kids Tales has taken Katie around the world. She's taught workshops in Canada, Colombia, and Guatemala, to name a few places. Her favorite Kids Tales moment was in 2015 when she led workshops at a refugee camp in Hungary. Katie's amazing work with COA and around the world has not only inspired thousands of children to find their voices, but it has also given her strength and inspiration to navigate from high school to college, and beyond.
Among many lessons, Katie says leading Kids Tales taught her the value of investing in the community: "It's very easy to get lost in your own life, the things that you do on a regular basis. Life is busy, obviously. But it's important to take a step back." Working with youth has also changed Katie's life: "I became more of a self-starter. I started seeing solutions, not just problems." Katie's college plans are already set: after taking a gap year to focus on growing Kids Tales, she will attend Stanford University in 2019. Through it all, she plans to keep strong ties with COA: "I definitely want to maintain a relationship." At Stanford, she plans to study Urban Studies and learn even more about social entrepreneurship and nonprofits: "That's what I want to spend my life doing." She plans to take everything she learns in college and bring back solutions to the City of Milwaukee. As she reflects on her past and future, Katie credits COA with making her dreams a reality: "I appreciate everything COA has done for me and for Kids Tales. Without COA, there would be no Kids Tales."