Project Description
We are excited to recognize Linda Gorens-Levey & Michael Levey and Suzanne & Michael Hupy as COA's 2017 Parents of the Year!  This award recognizes two wonderful couples for their outstanding community service and their role as great parents.  One of our primary goals at COA is to provide the support that parents need to succeed as nurturers, because we understand and value the critical role that great parents play in shaping a better future for us all.  Please join us at COA's 35th Annual Parents of the Year Luncheon on Tuesday, August 22nd at the Italian Community Center (631 E Chicago St) from 11:30 am – 1:30 pm for the celebration. You won't want to miss it! Expect a delicious meal, networking with Milwaukee business and nonprofit leaders, speeches from the honored parents and their children, and a performance by COA's Early Education Choir.
Meet Linda Gorens-Levey and Michael Levey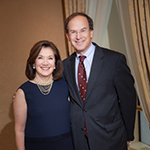 Linda Gorens-Levey is a partner at General Capital Group, and works closely with several local nonprofits including United Way of Greater Milwaukee and Waukesha County and the United Performing Arts Fund; and Michael Levey is a partner at Quarles and Brady who also serves as a member of the Wisconsin Equal Justice Fund, Inc. and has dedicated time to supporting Make-A-Wish and the Milwaukee Center for Independence. They are the proud parents of sons Jacob and Ben.
Meet Suzanne and Michael Hupy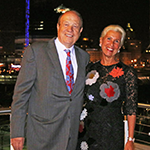 Michael Hupy is the managing partner at the law firm of Hupy & Abraham, a member of COA's Board of Directors, and both he and Suzanne are philanthropic leaders with years of service to the Milwaukee community and proud parents of daughter Maxine and son Rex.
Get your tickets, here, and learn about sponsorship opportunities, here.