Project Description
"I didn't know that!" a NOVA High School student was in awe as a senior Amani resident recalled her experience with the Milwaukee riot of 1967. He had heard about the riot before, but this was his first time hearing all the scary details. The two sat around a table with other Amani elders, NOVA students and community members in front of microphones. Their conversation was being recorded as part of COA's latest project: The Amani Voices Podcast.
Recorded every Tuesday in the Ethel Nutis Gill Family Resource Center (FRC) at COA's Goldin Center, Amani Voices is an intergenerational podcast that aims to bridge the gap between Amani's older and younger residents and build a record of collected community stories. In January, Safe & Sound collaborated with COA Youth & Family Centers as well as NOVA (Northwest Opportunities Vocational Academy) High School to launch the project. Mr. Clifton Agee, a staff member at NOVA, had been hosting informal discussion groups for high schoolers and elders in Amani for years. With the support of Potawatomi Hotel & Casino's Heart of Canal Street program, NOVA, COA, and Safe & Sound joined forces to turn the conversations into a full-blown podcast.
COA's Family Resource Center Assistant, Princess Byers, records and edits each podcast. Each hour-long episode features eye-opening discussions that have older adults from Amani giving valuable history lessons and wisdom to Amani's younger generation, and vice versa. Through their talks, residents break down common misconceptions held about each of their age groups and really get to know one another. "At the beginning it was hard," says Princess. "But now there's more of an understanding as the conversations go on." Each episode features a different theme, but their loose-ended talks tend to veer into topics like culture, music, racism, politics, education, family and history. Some participants take part every week. The podcast features collaborations from local partners like Community Advocates and Milwaukee Journal Sentinel.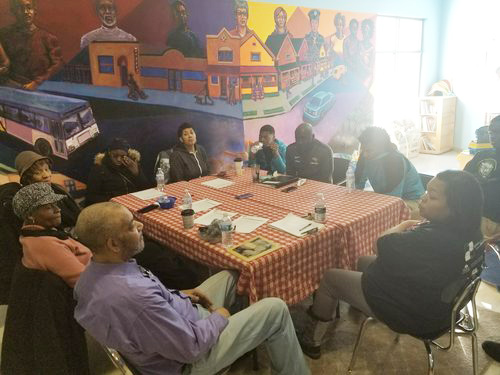 Through the fascinating podcast, new bonds are already being made in Amani. According to Princess: "Kids and elders are building bonds. It's bridging gaps. People that didn't know each other before now genuinely know and care about one another."
Eventually, COA hopes to replicate Amani Voices by starting podcasts in other neighborhoods. Another big plan is to document their conversations into a book. COA's Community Engagement Coordinator, Nicole Franklin, hopes this future book will include the stories shared in the podcast, plus collected family recipes. With the podcast and book, Amani's future generations will have access to an important record of the neighborhood's rich history and culture.
Princess is proud of Amani Voices' progress these past three months. She also looks forward to recording future conversations. Students and elders are also excited: "Now we're at a point where they understand the goal of the podcast," says Princess. "They love doing it."
_________________________
Visit amanivoices.squarespace.com to listen to the first three episodes of Amani Voices. The website is mobile-friendly.