20th Annual Hollywood Gala
Each year, COA rolls out the red carpet on Hollywood's biggest night for its annual Hollywood Gala. This event, presented by the Marcus Corporation and the National Association of Theatre Owners of Wisconsin & Upper Michigan, raises funds to support COA's array of family-centered programs and features a formal dinner, silent auction, and a live screening of the 90th Academy Awards. This year, COA raised over $177,000 to benefit Milwaukee children and families. Thank you!
One standout moment from the Hollywood Gala every year is when we honor our amazing program participants with the Rising Star Awards. This year, we honored two wonderful seniors from Riverside University High School: Ty'Johnna Gardner and Keshawn Williams. Watch a video on these exceptional COA kids below, and read more about them at the #WeAreCOA blog.
Join us in thanking our sponsors: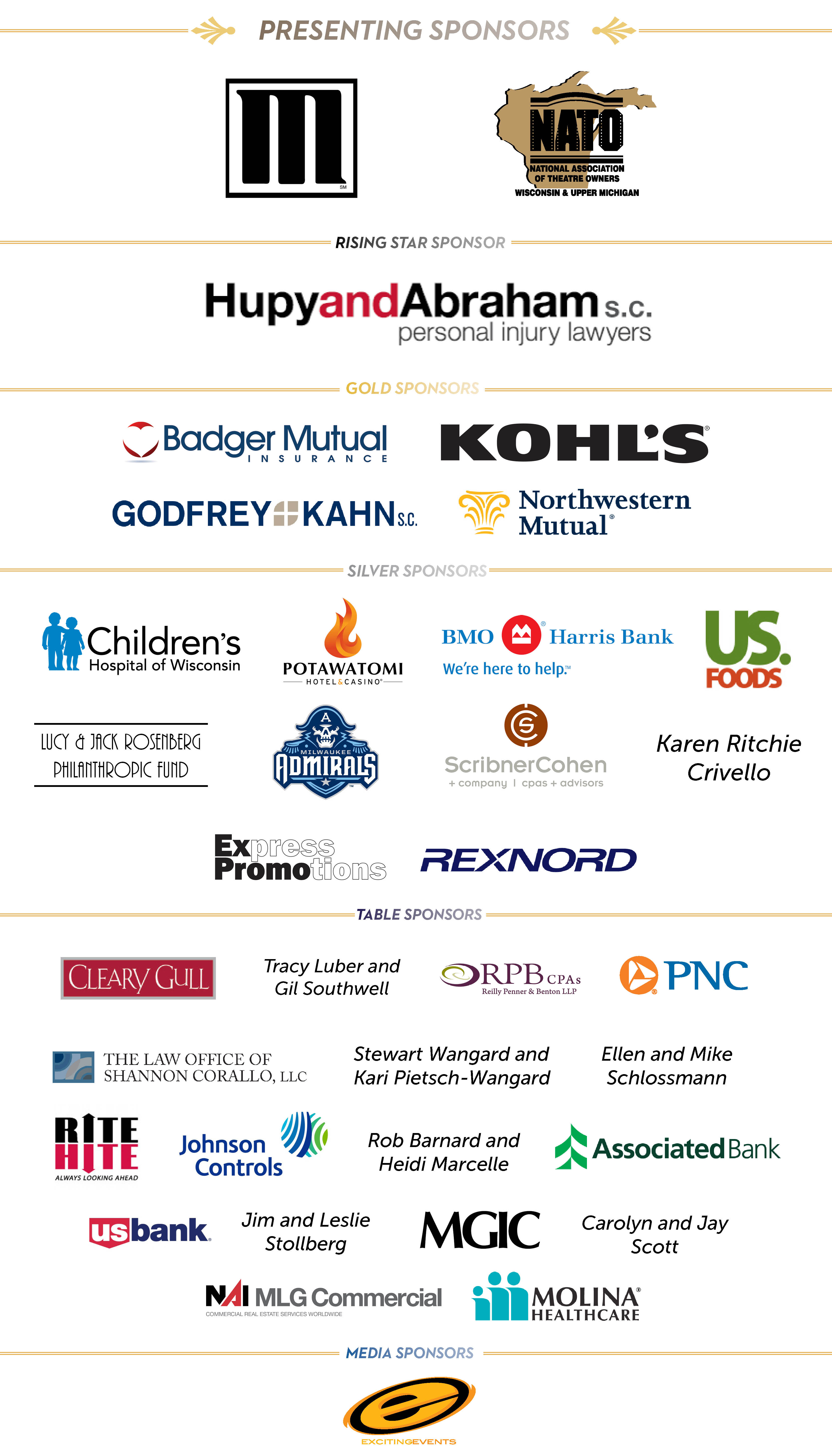 A special thank you to our silent auction donors:
Marcus Theaters
Bud Selig
Glenn Kennedy/INPRO
Karen Crivello
Black Tie Personal Chef and
Concierge; LLC;
Jennifer L Goetzinger
Scott & Jeanne Diffley
Funjet Vacations
Mason Street Grill
Zulu Nyala
PNC Bank
Ms. Nancy Farino and Mr. Mark Blutstein
Marcus Hotels and Resorts
Jason Abraham/LAMMI Sports Management
Robert Kieckhefer
Parducci Wine Cellars
The Capital Grille
Edelweiss
InterContinental Milwaukee
Milwaukee Coach & Carriage
Milwaukee Pedal Tavern
Tom and Dale Schneider
Oro di Olivia
Gathering on the Green
Sargento Cheese
Stilt House
Milwaukee Ballet
Ms. Tracy Luber and Mr. Gil Southwell
Marcus Center for the Performing Arts
Care-e-lotta
Brewhouse Suites
Central Standard Distillery
Braise
Wisconsin State Fair
East Shore Specialty Foods
Taliesin Preservation
The Pfister Hotel
Milwaukee Repertory Theater
Sprecher Brewing Company
Present Music
South Milwaukee Performing Arts Center
The Charles Allis and Villa Terrace Art Museums
Jewish Museum Milwaukee
FLOAT Milwaukee
MSOE
Black Shoe Hospitality
Sunset Playhouse Inc
Beans & Barley
Historic Milwaukee
Transfer Pizzeria and Cafe
ComedySportz
World Music Festival Inc./Summerfest
Stonefire Pizza Company
Milwaukee County Zoo
Waterford Wine Company
Wines For Humanity
Breadsmith
Cutco Cutlery
Fun Factory Sweet Shoppe
Strauss Brands
Thief Wine Shop & Bar
Colectivo
Lakefront Brewery
Ian's Pizza
National Baking Company, Inc.
Anodyne Coffee Roasters
Outpost Natural Foods Cooperative
Cousins Suns
The Iron Horse Hotel
Potawatomi Hotels & Casinos
Milwaukee Food & City Tours
Centro Cafe
The Bay
Rosen Nissan and Kia
The Wisconsin Athletic Club
Jay and Kay Kaun
Ned Witte
Sari Selig-Kramer
Pretzilla
Green Bay Packers
Morningstar Golfers Club
KOSS Coporation
Elite Sports Club
Ms. Christine McLaughlin
Adventure Rock
Danceworks
Milwaukee Wave
Kohl's Department Stores
Acupuncture and Holistic Health Associates
Mark Pasch, LTD
8 Branches Chinese Medicine
Bronze Optical
Studio D'Angeli
AC Zuckerman, Inc.
Hothouse Flower Jewelry
Lake Hill House
Schroeder Solutions
Margaret Dee McGarity
Ivy McConnell
COA Youth & Family Centers
Paula Hare
J.K. Lee Black Belt Academy
Ms. Debbie Goldin
Florence Eiseman
First Stage
Schlitz Audubon Nature Center
Urban Ecology Center
Zoological Society of Milwaukee
Warner Brothers
Pizza Shuttle
Mr. Jeffrey Schaefer
Walt Disney Studios Motion Pictures
Fox Fulfillment
Warner Brothers
Focus Features
Lionsgate Entertainment
Universal Pictures
Ronald Cohn