Each year, COA rolls out the red carpet on Hollywood's biggest night for its annual Hollywood Gala. This event, presented by the Marcus Corporation and the National Association of Theatre Owners of Wisconsin & Upper Michigan, raises funds to support COA's array of family-centered programs and features a formal dinner, silent auction, and a live screening of the 89th Academy Awards. At this year's Gala, COA raised over $163,000 to support life-changing programs which will reach over 10,000 children and families.
Join us in thanking the Hollywood Gala's event co-chairs, planning committee, auction donors, and table sponsors:
Event co-chairs:
Lina & Santino Cicero and Kim & Daryl Lueck
Committee members:
Priya Bhatia | Kyle Buehner | Mary Gute Witte | Bret Hoffmann
Michael Hupy | Tracy Luber | Gil Southwell | Edward Witte
Auction Donors:
Acupuncture & Holistic Health Associates
Alex Pawlak
Riverwest Public House Cooperative
Andy Komisar
Anonymous
APeel Skin Spa
Bartelt. The Remodeling Resource
Beans & Barley
BelAir Cantina
Best Place at the Pabst
Black Shoe Hospitality
Bleecker Street
Breadsmith
Bronze Optical
Bryan Sadoff
Cafe Corazon
Cafe Lulu
Capital Grille Milwaukee
Care-a-lotta
Centro Café
Colectivo
Comedy Cafe
ComedySportz
Company Brewing
Cousins Subs
Curt Crain
Cutco
Danceworks
Debra Weaver
Discovery World
Disney
Dr. and Mr. Ronald Cohn
East Shore Specialty Foods
Elite Sports Club
First Stage Children's Theater
Fischberger's Variety
Float Milwaukee
Florence Eiseman
Focus Features
Fox Fulfillment
Fred and Patti Kurth
Fred Astaire Dance Studios
Gathering on the Green
Halo Hair Salon
Heather Paradis
Historic Milwaukee
House of Harley-Davidson
Hupy and Abraham, S.C.
InterContinental Hotel Milwaukee
Jackson's Blue Ribbon Pub
Jay Kaun
Jean Novy & Jennifer Goetzinger
Koss Corporation
Lakefront Brewery
Lina & Santino Cicero
Lionsgate
Marcus Center for the Performing Arts
Marcus Hotels and Resorts
Marcus Theatres
Margaret Dee McGarity
Mark Pasch LTD
Mason Street Grill

Milwaukee Admirals
Milwaukee Ballet
Milwaukee Brewers Baseball Club
Milwaukee Coach and Carriage
Milwaukee County Zoo
Milwaukee Fire Department
Milwaukee Food & City Tours
Milwaukee Pedal Tavern
Milwaukee Power Yoga
Milwaukee Public Market
Milwaukee Public Museum
Milwaukee Repertory Theater
Milwaukee Wave
Milwaukee World Festivals, Inc./Summerfest
Morningstar Golfers Club
Mr. Gilbert Southwell
Mr. Scott Levine
MSOE Grohmann Museum
Outpost Natural Foods Cooperative
Parducci Wine Cellars
Paula Hare
Pete Mueller Group
Pizza Man
PNC Bank
Present Music
Pretzilla
Priya Bhatia
Rare Steakhouse
Ronald Cohn
Russ Darrow
SALA Modern-Sicilian
Schlitz Audubon Nature Center
Schroeder Solutions
Sendik's
Sharon Lynne Wilson Center for the Arts
Sony Pictures
South Milwaukee Performing Arts Center
Sprecher Brewing Company
Stonefire Pizza
Studio D'Angeli
Sunset Playhouse
Taliesin Preservation Inc.
The Bay
The Charles Allis & Villa Terrace Art Museums
The Harley-Davidson Museum
The Institute of Beauty and Wellness
The Iron Horse Hotel
The Pfister Hotel
The Wisconsin Athletic Club
Thief Wine
Tracy Luber & Gil Southwell
Transfer Pizza
United States Golf Association
Universal
Urban Ecology Center
Wehrenberg
Weinstein Pictures
Wines for Humanity
Wolf Peach
Zoological Society of Milwaukee
Zulu Nyala Group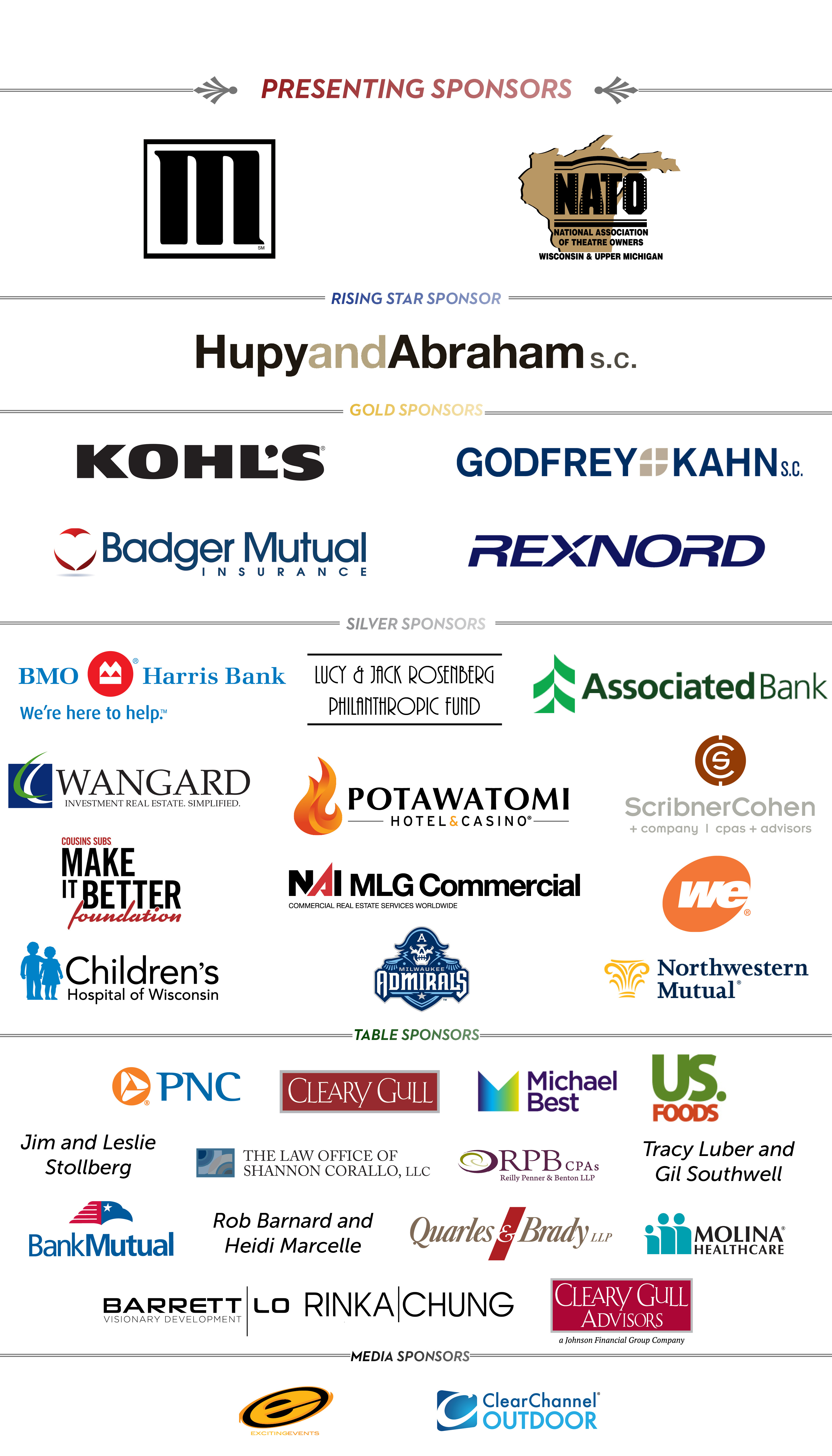 Thank you to all the participants, volunteers, donors, and supporters who make our mission of serving children, strengthening families, and building community possible. Your involvement in COA represents a commitment to Milwaukee families — we are incredibly grateful.