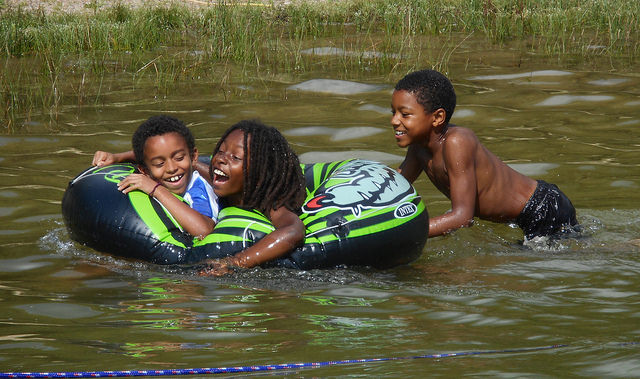 COA Youth & Family Centers (originally Children's Outing Association) sent the first eight kids to camp in 1906.  Camp has always been and continues to be a life-changing experience where kids spend time in and learn about the outdoors as well as themselves and others!  Over a century later, COA is proud to continue to support the strong tradition of overnight resident camp.
Camp Helen Brachman (CHB) is proud to be accredited by the American Camp Association. ACA Accreditation means that CHB cares enough to undergo a thorough (up to 300 standards) review of our operation – from staff qualifications and training to emergency management. American Camp Association collaborates with experts from the American Academy of Pediatrics, the American Red Cross, and other youth-serving agencies to assure that the current practices at CHB reflect the most up-to-date, research-based standards in camp operations. Camps and ACA form a partnership that promotes growth and fun in an environment committed to safety.
Camp Helen Brachman is located a little over 2 hours from Milwaukee, near Waupaca, WI.  We are located on 200 acres of pine forest, prairie and hardwood forest.  Pickerel Lake, located in the heart of camp, is the focal point for many beautiful views and fun activities! Each summer, youth ages 8 – 17 enjoy all of the fun and adventure CHB has to offer.  Trained staff members provide a safe, fun and supportive environment for all campers to try new things and make new friends.  Campers 8-15 can choose from 6 day sessions to attend and campers ages 8 – 17 can choose from 13 day sessions to attend.  Please see the information below for specific dates and to sign up for camp.

Stay up to date about Camp Helen Brachman by signing up for the Camp Helen Brachman eNewsletter!
Newsletter Archive:
---
2017 Winter Camp Information
Winter Camp takes place during MPS's winter vacation, and features snow sculpting, broomball, sledding, hiking, campfires, and all kinds of winter time fun.
Winter Camp is available to boys and girls aged 8-15.
Winter Camp registration is now closed. 
2017 Camp Helen Brachman Summer Information
Registration for summer sessions is CLOSED!
June 25th to July 7th – SESSION 1 (register before: 5/26/2017)
Session 1 Theme: Around the world in 13 days!   Campers will learn about different cultures from all around the world, and be able to share all about themselves as well. Come and learn about and appreciate what makes us all different – wherever in the world we are from!

July 9th to July 21st – SESSION 2 (register before: 6/9/2017)
Session 2 Theme: Outdoor Explorers   Whether it is outdoor cooking, putting up a tent, making a fire or taking a late night hike under the stars – you will leave camp with a greater love and appreciation for the outdoors than when you arrived!

July 23rd to August 4th – SESSION 3 (register before: 6/23/2017)
Session 3 Theme: Aqua Adventurers   There will be water games, the chance to create sea creatures in the art studio, and fun educational activities about water safety and more! Act out your best impression of a whale in drama!

August 6th to August 11th – SESSION 4 (register before: 7/7/2017)
Session 4 – CHB Healthy Heroes  Learn how much fun it can be to stay healthy, experiment and learn new skills that keep your body and mind strong and feeling good. Develop lifelong  healthy living activities that you can take home to share!
Fast & Easy Online Registration
If your child has attended Camp before, the online registration process has never been easier:
1. Click the "Register Online" below    2. Select the most recent session  3. Click "Auto-Fill" in the top right corner   4. Update any changes   5. Hit submit!
If you plan to register online, please be sure to refer to the fees and scholarship information
below before you start. Most people qualify for some size scholarship for Camp Helen Brachman!
Camp Helen Brachman Supplemental Information
Spring Open Up Camp Weekend is for families with children of all ages who want to help us get camp ready for the summer! It is a great opportunity for parents to get a taste of and see our camp firsthand. Families participate in a variety of work projects. There are always tasks that will allow flexibility for parents with children of different ages. There is no fee for this camp but transportation is not provided; families will need to be able to get themselves to and from camp. Meals, snacks and housing are provided.
Spring Open-Up Camp 2017  Info Flyer
Session: May 5 – May 7
Open-up Registration Form
Open-up Registration Form
Summer Camp Employment
Camp Helen Brachman (CHB) is seeking leaders passionate about making the difference in the lives of Milwaukee youth. Only 35 will be hired and we are recruiting the best from Milwaukee, throughout the nation, and around the world.Staff must be available mid June through mid August. Your time at camp will include 1 week of training and 4 sessions with campers.We offer additional and optional trainings in the beginning of June. These include Wilderness First Aid, Lifeguard Training, Leave No Trace, Wilderness Skills, and Archery.
CPR & First Aid certification is required for all staff members. We offer this cert through camp as well. Potential staff members must be confident in leading at least two of the activities we offer – or willing to learn.
Summer Camp Employment Online Application
Summer Camp Employment Online Application
Counselor-In-Training (CIT) Program
The CIT program is designed for campers who will be 16 during the summer. This program is an opportunity for campers who are interested in being youth leaders either at camp, school, in a future job, church or elsewhere. CITs will learn the basics of youth-development and leadership. This intensive training will include hands-on time with younger cabin groups. CITs that excel in the training may be invited back for future camp sessions. Campers interested in participating in this program must submit an application, references, the additional paperwork above, and complete an interview before admission to the CIT program.
Youth Worker Experience Program
The youth worker program is designed for youth that will be 17 during the summer and want to gain hands-on job skills in a beautiful north woods setting. Youth workers must complete an application, references and interview in addition to the registration form and additional paperwork available above. A limited number will be chosen to participate in this skill-building experience each session. Youth workers receive training, skill development, and feedback in applying for all jobs and interviewing. Time will also be spent on expectations. Hands-on time will be spent daily learning and providing hands-on help in the kitchen, office, cleaning, and maintenance and program areas.
Our Goals for Camp
Our goals at camp for your child include ensuring they are safe, have fun and make friends!  
Rental Information
Whether you're hosting a family reunion, a business meeting, or a small gathering of friends, CHB has the accommodations to suit your needs!  Please see our "Facility Descriptions" page below for detailed information about each of our buildings and their accommodations.  If you are interested in renting our facilities, please contact chb@coa-yfc.org for availability and details!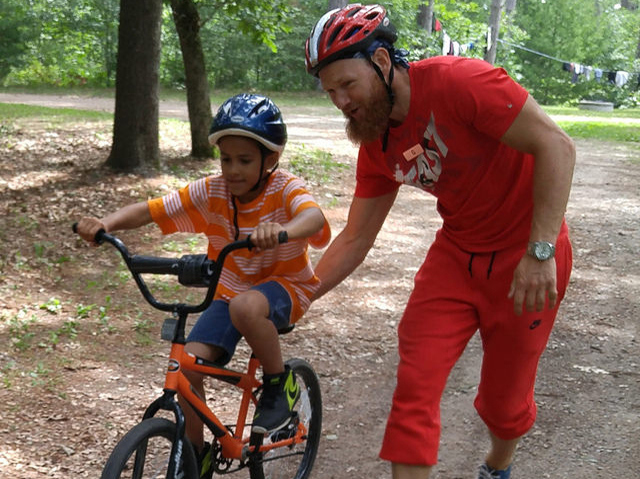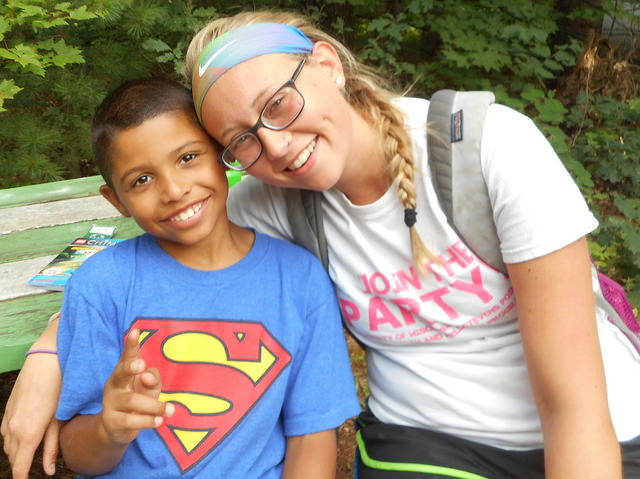 Thanks to financial support from Bader Philanthropies, United Way of Greater Milwaukee and Waukesha County, Camps for Kids, The Greater Milwaukee Foundation, and the Camp Nebagamon Scholarship Fund, COA is able to provide financial assistance to make sure no child is denied the life-changing opportunities offered by Camp Helen Brachman.
The U.S Department of Agriculture prohibits discrimination against its customers, employees, and applicants for employment on the bases of race, color, national origin, age, disability, sex, gender identity, religion, reprisal, and where applicable, political beliefs, marital status, familial or parental status, sexual orientation, or all or part of an individual's income is derived from any public assistance program, or protected genetic information in employment or in any program or activity conducted or funded by the Department.  (Not all prohibited bases will apply to all programs and/or employment activities.) If you wish to file a Civil Rights program complaint of discrimination, complete the USDA Program Discrimination Complaint Form, found online athttp://www.ascr.usda.gov/complaint_filing_cust.html, or at any USDA office, or call (866) 632-9992 to request the form. You may also write a letter containing all of the information requested in the form. Send your completed complaint form or letter to us by mail at U.S. Department of Agriculture, Director, Office of Adjudication, 1400 Independence Avenue, S.W., Washington, D.C. 20250-9410, by fax (202) 690-7442 or email at program.intake@usda.gov. Individuals who are deaf, hard of hearing or have speech disabilities may contact USDA through the Federal Relay Service at (800) 877-8339; or (800) 845-6136(Spanish). USDA is an equal opportunity provider and employer.