Project Description
Murals are meant to be an illustration of the community where they are created. The new teen-developed mural, unveiled at COA's Max Samson and Nancy Pinter Family Teen Center inside the Goldin Center on December 16th, provides a shining example of the growing community engagement and pride that is helping drive a brighter future for the Amani neighborhood.
The community mural project was made possible thanks to the support of the Greater Milwaukee Foundation's Mary L. Nohl Fund, and was facilitated by professional local artists Enrique Murguia and Robert Burdette. The project helped teach art fundamentals including composition, balance, movement, and how to paint etc. while also fostering project development and time management skills.
Teens from COA's Goldin Center wanted to create artwork that represents their vision of the community and also reflects how their hard work and leadership will impact it in the future.   The neighborhood being a garden with shovels not only represents recent garden projects that teens have been working on in the new Moody Park, but also symbolizes the cultivation of the young people at COA into future leaders. The silhouettes are meant to embody how residents of the Amani community have come together to make positive change, and each star at the top represents a year the center has been open. Teens wanted to depict the rich history of the neighborhood and reinforce the idea that it is continuing to grow and improve.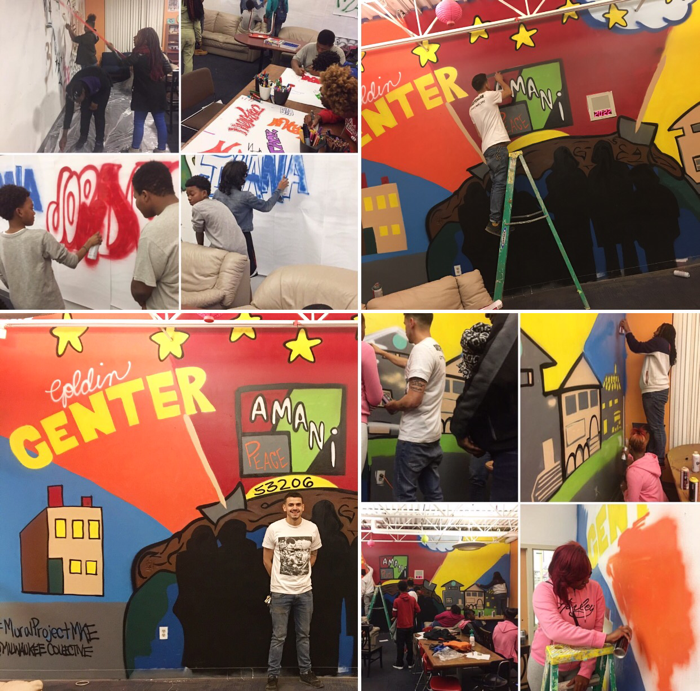 Since opening in 2005, the COA Goldin Center has become a second home to thousands of youth and their families, and has been a cornerstone around which the continued positive growth in the Amani neighborhood. Amani residents are helping to shape a better tomorrow for their 53206 zip code through active involvement in the planning and development of the programming and resources their neighborhoods needs to thrive. Community-driven development is inspiring pride in the neighborhood as residents see resources, programming and facilities they've helped plan come to fruition; COA's Ethel Nutis Gill Family Resource Center, the Family and Pediatric Clinic in COA's Goldin Center (operated in partnership with Children's Hospital), the new COA Burke Early Education Center, and the new Moody Park are just a few examples of the amazing community development that is symbolized in the new mural.
Check out this video to see the entire mural!