Project Description
Dear Friends,
By now I am sure you are aware of the events that occurred in Milwaukee's Sherman Park neighborhood, which is about 20 blocks west of the COA Goldin Center.  Like so many others, I was concerned and the next morning I went to the Goldin Center to talk with Amani neighborhood residents and COA staff.
What I saw was not surprising, and it didn't make the news.  The only thing going on was kids playing in the park, running through the water at the splash pad, arts programming for children and families, meals being served to residents, a wide variety of programs for youth, and wonderful children in childcare.  There was no hint of any threat of violence.  And while the events of the past weekend were an important subject of conversation, everything was quiet.
Crime is a huge issue in Amani, but there are some hopeful signs.  Crime has decreased 22% in Amani over the past 3 years.  In the first 7 months of 2015 there were two homicides in Amani; and during the first 7 months this year there was one homicide… and no homicides so far this summer.
COA is committed to engaging Amani residents and building Amani neighborhood assets.  With your support, at COA's Goldin Center we have daily youth programming.  There is now quality early child education where none previously existed. We have daily family programs and services.  Working with Children's Hospital we built a pediatric and family clinic to provide access to health care where there had been none.  We worked with Milwaukee County to create the new Moody Park, and we provide daily park programing (splash pad, arts and crafts, soccer, basketball, rugby, chess, gardening, and community meals) for children and families.  We co-founded the Amani United neighborhood association and Friends of Moody Park, and Amani residents are engaged and actively working to make Amani a safer family neighborhood.
And it has been a great summer so far.  The summer day camps were packed.  Overnight camp had waiting lists.  The new childcare center at Goldin is nearing capacity.  Family programming in the new Moody Park is well attended.  And of course we continue to see great programming and family engagement at our Riverwest Center, the new COA Holton Center, at 7 school sites, and at Camp Helen Brachman.
I am reaching out to assure you that this is not the time to feel discouraged.  It is the time to redouble our efforts.  We recognize that we are not the only solution – but we are definitely part of the solution.  And we must remain hopeful that change will continue to happen.  This is the time for all of us to be advocates for COA's work and our positive impact on the communities and families we serve.  Please take time to pause, reflect and recall the very reasons why you remain committed to this organization and its important work!  And thank you for your continued support and engagement.
Please know how much we all appreciate your dedication and commitment to COA – "Serving Children, Strengthening Families, and Building Community".
Sincerely,
Thomas P. Schneider
Executive Director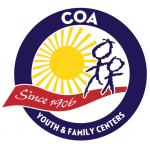 P.S. — IN CASE YOU MISSED IT:
COA's Amani neighborhood development initiative was selected by the UCLA Center for Healthier Children, Families and Communities and the Doris Duke Charitable Foundation in New York as 1 of 7 national models for community development.
COA also won three 2016 MANDI  Awards – Milwaukee Awards for Neighborhood Development Innovation:
Cornerstone Award for COA's role in revitalizing the Amani neighborhood and for COA's "commitment and effectiveness over time."
Public Space Award to Milwaukee County Parks Department and community partners including COA and the Dominican Center for Women for the development of Moody Park – "a symbol of revitalization for the Amani neighborhood."
COA also won the People's Choice Award – chosen by the public.